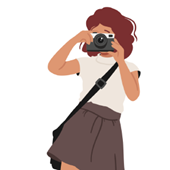 C.
Age : 16 years old
Nationality : France
Program duration :
Semester
About me
---
My passion is photography capturing every moment. I am excited to immerse myself in Australian culture, eager to share my traditions, recipes, and artistic skills. Outside of school, I do lots of drawings, painting and even do sculpting. While I'm in Australia I am very keen to try Netball. I am ready to create lasting memories Down Under.
My hobbies
---
Board games, playing cards, cooking, baking, gardening, painting/drawing, photography, reading, travel, visiting museums, athletics, bike riding, dance, walking/hiking, video editing, netball
Favourite subjects
---
"One of my favorite subjects at school is Literature because I like its literal aspect with plays and books that tell different stories. I also like Science and Life on the Earth because it help me to understand certain notions about the world around me and lastly History Geography because we can learn the actions and thoughts of our ancestors, I mean kinds of. On the other hand, I don't like math, I barely understand mathematical reasoning and French beause I hate dictations."
Why Australia?
---
"It's all about learning the daily life of a local family. Being able to embrace a new culture, a new flora and fauna, completely opposed to my homeland. I really want to see the world differently from my own comfort zone."