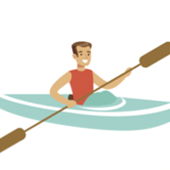 A.
Age : 15 years old
Nationality : France
Program duration :
Semester
About me
---
A sporty exchange student thrilled to explore Australia's outdoor wonders. I have been practising rowing for many years and am hoping to make the 4 person French championship this year. My passion for cooking and savouring global flavours drives my culinary adventures. I value real-life experiences over screen time.
My hobbies
---
Cooking, baking, rowing, surfing, travel, visiting museums.
Favourite subjects
---
"My favourite subject at school is physic-chemistry and my least favourite subject is french."
Why Australia?
---
"I have always dreamt of going to Australia. In fact since I was little my favorite animals have been kangaroos and koalas, so I'd love to see them. I have chosen an immersion program to discover the culture such as their traditional food, their national sports, their traditional activities and all my host family's tradition."