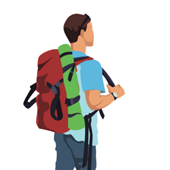 H.
Age : 16 years old
Nationality : France
Program duration :
Term
About me
---
Dedicated and determined are words I would use to describe myself. I am committed to giving everything I try 100%. Being active is important to me and my passion for outdoor sports including climbing, biking and running are very evident. I am looking forward to this time with you and making the most of this experience.
My hobbies
---
Piano, Bike riding, climbing, running, skiing, surfing, triathlon, walking, hiking, politics, travel
Favourite subjects
---
"I really enjoy history, English and Spanish. I also like maths. I'm not a fan of art and technology."
Why Australia?
---
"I chose this host country because I had never been there and I had to discover it. It's a very vast country with landscapes that I think are magnificent. The country's culture is very different from my own. The sports practised there, fascinate me."